Description
Low Noise
• Closed shoulder design prevents radiating radial noise sound waves to reduce exterior and interior perceived noise level.
• Balanced block distribution provides smooth block entering into the footprint to lower the impact noise and reduce the radiated noise.
• Perpendicular edge blading gradually reduces the block stiffness, lowering the block movements and reducing the propagated noise.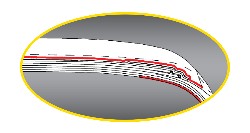 Superior Comfort
The added rubber under layer absorbs the tyre vibrations and reduces propagation of road irregularities.

Wet/Dry Performance
High number of biting edges offers greater blade density for superior braking and better control in wet driving conditions.